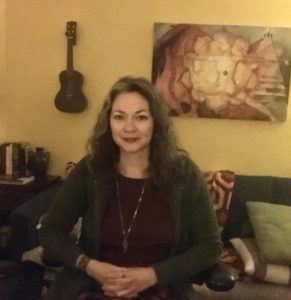 Misha Flores was born in St. Louis, Missouri, grew up mostly in Texas, and moved to California in 2013. She went from a youth focused on the performing arts, studying musical theater at College of Santa Fe, to a later incarnation as a visual artist. She earned her BFA in Painting with a minor in Photography from Texas Woman's University in 2006. Her work incorporates psychological and spiritual exploration, meditation, yoga, expressionism, experimentation, and a fervent passion for nature. She currently lives and creates in the Bay Area, where she enjoys hiking with her husband and her dog, and cuddling with her kitties.
Misha feels strongly about environmental issues, and human and animal rights. She is dedicated to volunteering and donating to these causes, and to thinking globally as she acts locally. She paints billboards for the Pacific Beach Coalition events, and serves on the board of the Art Guild of Pacifica.
Feel free to contact her for exhibition opportunities, or if you have a special commission request. Misha greatly enjoys stretching her creative muscles and using her talents to bring about a client's unique vision. See Contact information below.