So I had to drop off a donation piece for a benefit auction this weekend.  Made a little abstraction of the Mussels and Barnacles piece I had done for my Closer Look series…

And drop off was at the Sanchez, so I had pleasure this Mother's Day of visiting my local art center's open studios, and exploring what a few of my fellow local artists are up to in there!
There were playful, bold prints by Kristina Ayala.
Adorable pet portraits by Lillian Cram.
Edgy B&W and X-Ray photography, contemplations on fertility by Tanya Lin Jaffe.
Wonderful playful figurative watercolors by Robert Dvorak pictured below…
And Many Many More.
One of my favorite pieces was this lovely little realism number depicting one of my favorite things in the world, Sriracha!  This was by Wayne Jiang.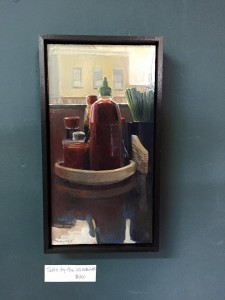 It was a pleasure to meet so many talented folks and get to talk to them about their processes and media!